Upzone Adventure Park in Gothenburg is located in a cozy forest area at Skatås gym.
Skatås is an gym facility located by the Delsjö nature reserve in eastern Gothenburg
Activities in Gothenburg
Göteborg
Address
Delsjön, Skatås Motionscentralen
Coordinates
57.702519,12.042310
Vår fina nybyggda park ligger i Skatås motionscenter-området. Antingen om ni parkerat eller går till fots, ska ni passera Skatås motionscentrum och fortsätta mot skidklubben. Ni håller till höger i första svängen när ni passerat skidklubben och fortsätter i vägens riktning tills ni ser grusplaner (Volleybollplaner).
Ni ska passerar grusplanerna och ha dem på vänster sida samtidigt som ni går i riktning mot skogen där ni så småningom kommer se våra UPZONE skyltar. Från parkeringen är det ca 650m och tar ca 10 minuter att gå. Går man från Skatås motionscenter är det istället ca 600m till parken.
Note!
The products become visible in the calendar when they can be booked. If you do not see the activity you want to book, try jumping ahead in the calendar.
Book the activities in the booking calander

Larger groups and companies makes a booking request in the calander – we will then confirm your request via email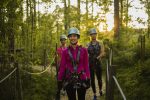 A good place to stay
Of course we wish you to stay a few extra days in our fantastic city. There is much more to see and experience. Here we suggest a good place to stay in Gothenburg and the surrounding area.
Tips for stay