Upzone Adventure Park in Gothenburg is located in a cozy forest area at Skatås gym.
Skatås is an gym facility located by the Delsjö nature reserve in eastern Gothenburg
Activities in Gothenburg
Gothenburg
Address
Delsjön, Skatås Motionscentralen
Coordinates
57.702519,12.042310
Our newly built park is located in the Skatås gym area. Either if you park or walk, you should pass Skatås gym and continue towards the ski club. Keep to the right in the first turn when you have passed the ski club and continue on the road until you see gravel pitches (Volleyball pitches).
You will pass the gravel pitches and have them on the left side at the same time as you walk in the direction of the forest where you will eventually see our UPZONE signs. From the parking lot it is about 650m and takes about 10 minutes to walk.
Note!
The products become visible in the calendar when they can be booked. If you do not see the activity you want to book, try jumping ahead in the calendar.
Book the activities in the booking calander

Larger groups and companies makes a booking request in the calander – we will then confirm your request via email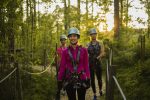 A good place to stay
Of course we wish you to stay a few extra days in our fantastic city. There is much more to see and experience. Here we suggest a good place to stay in Gothenburg and the surrounding area.
Tips for stay