Activities in Oxelösund
At Jogersjö, right by the swimming area near Jogersö camping, you will find one of Upzone's newest park.
Do not miss the park's AdventurZone with two long ziplines that are between 150-160 meters long.
Oxelösund
Coordinates
58.667165, 17.055751
Upzone Äventyrspark i Oxelösund ligger på vackra Jogersö. Ni hittar parken jämte restaurang Nya Källan i närheten av Jogersö camping. Parkera på den stora parkeringen vid campingen.
Sörmlandstrafiken kör bussar till närmaste hållplatsen Jogersövägen, som ligger 1,8 km från parken.
Note!
The products become visible in the calendar when they can be booked. If you do not see the activity you want to book, try jumping ahead in the booking calendar.
Book your acitivities in the calander below

Larger groups and companies makes a booking request in the calander – we will then confirm your request via email
Should you have any issues, you can send your request here instead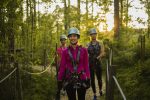 A place to stay
Of course we wish you to stay a few extra days in our fantastic city. There is much more to see and experience. Here we suggest a good place to stay in Oxelösund and the surrounding area.
Tips for stay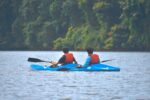 Exciting news for 2022!
If you want to try an adventure in a different way than up in the trees, we can recommend that you go on a wonderful trip with a canoe, kayak or SUP (Stand Up Paddle).
Book your water Adventure here
Experience our park in 360°