Directly by Hållsdammen is our newest adventure park addition, Upzone Skövde. In the middle of a nice mixed forest and close to a nature reserve, there are 4 different zones to climb in; there is a Kidszone for the small adventurers, but also a Risk Zone for the great adventurers with obstacles up to 18 meters up in the trees. A really stomach-churning experience.
Activities in Skövde
At Billingen leisure area there are exercise track, MTB- track, outdoor swimming and hiking trails just outside the junction. Here starts Hiking trails that offer magnificent nature experiences, lakes with fishing, outdoor swimming with Sweden's best views, wonderful barbecues area and a Skogsmullerike that invitets the whole familiy on adventures. In the forest on Billingens leisure area there are special trails for those who rides mountain bikes. On the newly laid paved pump track, you can playfully trian your technique. Through a pumping movement, you drive the bike forward and thus train both balance and new skills. Old as young are welcome to the park and in the pump track, you can not only cycle, skateboard, kickbike and inline skate.
Skövde
Coordinates
56.9811, 11.3748
Upzone Adventure Parks in Skövde is located in the middle of the beautiful Billingen Outdoor Area. From Badhusrondellen in Skövde center, you follow the signs to Billingehus for about 1.5 km. When you enter Billinge's leisure area, turn left at the roundabout at First Hotel Billingehus. Park by the large parking called P Skidstadion. When you have parked, walk along the main road towards Hållsdammen. Go on the right side of the road and follow the signs for Upzone.
Västtrafik's bus 21 stops nearby, the stop is called Billingehus and 600 m from the park. The journey takes about 10 minutes from Skövde travel center.
Note!
The products become visible in the calendar when they are available to be booked. If you do not see the activity you wish to book, try jumping ahead in the calendar.
Book your acitivites in the calander below
Larger groups and companies make a booking request in the calander – we will then confirm your request via email
Should you have any issues, you can send your request here instead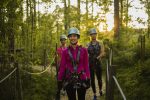 A good place to stay
Of course we wish you to stay a few extra days in our fantastic city. There is much more to see and experience. Here we suggest a good place to stay in Skövde and the surrounding area.
Tips for stay