Are you open?
Yes, we are!
We follow the authorities' recommendations and stay up to date on the new advice that comes out – which currently means that we are open as usual, but have taken measures to reduce the risk of possible spread of infection.
You can read more about how to protect yourself and others from spread of infection – clic here to go to The Public Health Agency of Sweden's webbsite.
​
​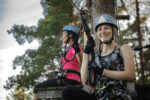 Actions to reduce the risk of possible spread of infection
It is an outdoor activity, which makes it easier to keep your distance to other people. In addition to this, following applies:
Staff who feel the slightest signs of illness will take sick leave from the first symptoms

Reduced group size during instruction and throughout the park

Everyone can help by keeping distance from each other in the park and up on the courses

Updated equipment and routines that follow current recommendations

Updated cleaning procedures that follow current recommendations

Staff unable to work within park operations, work from home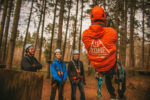 If we need to cancel the activity
Should we need to cancel activities, e.g. if staff become ill or if the authorities' recommendations change, we will of course contact you as soon as possible with this information. We appreciate it if you have the opportunity to rebook your activity to another day, but if that does not work, you will of course get your money back.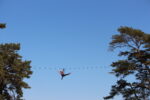 If anyone in the company gets ill
During April-August, we have eased our booking conditions so that you can feel safe as a guest with us. This is a tough time for us as it as for many companies, we are extremely grateful for your continued support and look forward to you booking activities with us. Should this period need to be extended, we will do so.
Our usual, generous booking conditions still apply. In addition, if someone in your company should become ill or exhibit any symptoms, we now offer free rebooking; allowing you to visit us on another day or receive a gift certificate that can be used later during the same season.
If you feel even the slightest symptoms – please stay at home, help protect our guests and staff alike. Contact us and we will help you rebook your activity for another date or arrange a gift card for you.