Upzone Adventure Park in Luleå can be found in the First Camp area close to both Kolarens Café and Niporna open-air swimming pool. In our High Ropes Course and from our longest zipline of 115 meters, you get a fantastic view of the Lule River. In our park, you can also play Combat Archery Tag, Bubble Ball and Escape Game
You are welcome regardless of whether you are going to join the adventure or just want to watch. In the park in Luleå, there are several benches where you can take a break and have coffee. These can be used by all our visitors, and if you do not have coffee or snacks with you, we highly recommend a visit to Kolarens Café.
Luleå
Coordinates
65.5946, 22.0685
Vår park i Luleå ligger på First Camps område. Parkera utanför receptionen, och följ sedan skyltarna förbi bommen och gå direkt till höger, så ser du parken efter ca 100 meter.
​Om du istället åker kollektivt är närmsta hållplats Disponentvägen, Karlsvik. Därifrån tar det ca 5 minuter att gå till oss.
Note!
The products become visible in the calendar when they are available to be booked. If you do not see the activity you wish to book, try jumping ahead in the calendar.
Book your activities in the calander below
Larger groups or companies make a booking request in the calander – vi bekräftar därefter er förfrågan via mail
Should you have any issues, you can send your request here instead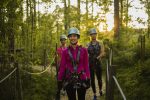 Of course we wish that you stay in our beautiful city Luleå. There is alot to do and see. Here is our tips for a better stay in Luleå and surrounding area.
tips for accommodation