Fun adventure at hight
Climbing in our high ropes courses is a physical adventure for 2.5 hours – during the activity you get to experience varying heights of climb and balance in an obstacle course that is stretched among the treetops. In all our climbing parks, there are also fun ziplines of various lengths that will make your stomach tingle.
A fun challenge where everyone can climb on their own level. See how your child or your friend dares to take that extra step that they did not think they would dare. Our guides will always be available on the ground to coach you through the obstacle course. At Upzone, we love to take care of you.
See prices
Safety first
All guests first receive help with the equipment. You will then learn how to climb and secure yourself in the courses on our intro zone. Then there is free climbing in our various courses. You are supervised by our IAPA-trained instructors while you climb. They are happy to help you and give tips if needed. So just relax, focus on having fun and enjoying the surroundings. Upzone performs daily visual inspections as well as regular operational inspections. All guests climb with a full body harness and we use CliC-iT® carabiners to ensure maximum safety. It is a communicating system with two carabiners, where, if one is open, the other will remain locked. In all our parks, you as a guest use the CliC-iT® carabiners as they minimize the risk of disconnecting both of your safety points at the same time, so that you can have fun and be safe when you climb.
Length limit: From 125 cm
Weight limit: 120 kg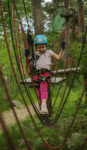 Why not stay the night?
We have five timbered cabins with four beds in each. Of course, you will have access to our service house around the clock. Or why not stay comfortably in our little forest grove near the Ski Tunnel!
There you can stay in a Canvas tent with its own veranda and a view down to Revsundssjön. Take advantage and enjoy the proximity to the forest, the lake and of course the ski tunnel.