Book your company kick off or conference with us!
Are you looking for an exciting activity for an upcoming corporate event? Upzone offers adventures at a different level. We arrange corporate events for 6-80 people where your creativity and willingness to cooperate will be tested. The activities are listed below, see which activity will suit your group best. Together with an Upzone instructor the group will receive different challenges that needs to be solved through cooperation and ingenuity.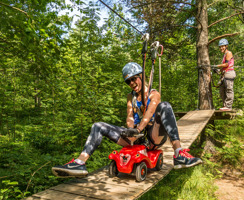 Teambuilding with a professional coach!
When you book teambuilding, you will get a fun and challenging experience, focusing on developing the group's ability to work together. A professional coach who is certified in leadership and workmanagement will lead your group through different exercises and also lead a discussion where the goal is to gain a deeper understanding of how to work more effectively together as a group. We will lead 1 team building excercise on the ground with focus on group dynamics and communtication. The group will then use your new knowlegde in a new and exciting obstacle at high altitude. If you would like an even deeper and more analytic experience you can order a personal analysis for 1950 :- SEK per person which will be sent out before your visit us and used during the excercises.

Price
Borås and Ullared: 6950 :- excl. VAT for up to 10 participants
(For more than 10 participants we can adjust the schedule and the excercises.)

The price includes 2-3 hours of activities depending on the number of participants. Equipment, instructions and a full insurance is included in the price.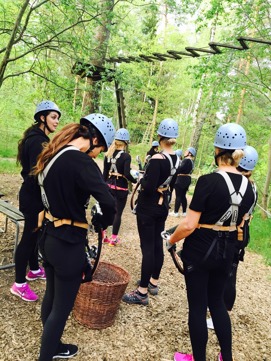 Team climbing means no special arrangements. All participants are able to climb freely in the park depending on their ability and confidence level.
Team climbing is ideal for larger companies with different types of employees. The courses increase in height and difficulty; therefore they have the opportunity to climb at a level that suits their confidence level.
Team climbing is suitable for groups up to 100 participants. If you are more, we can make further arrangements.

Price:
SEK 350/participant excl. VAT

The price includes 1.5-4 hours of climbing depending on the number of participants, equipment, instruction and refreshments.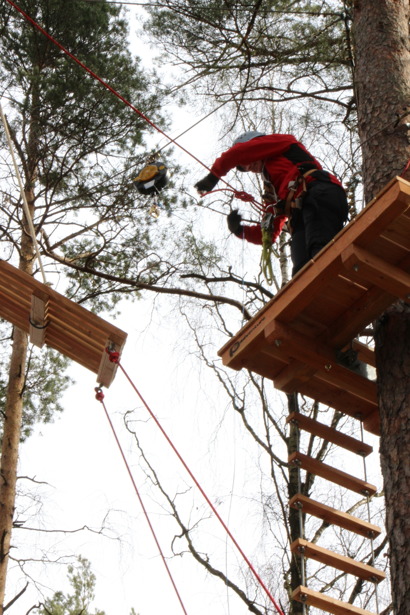 Book our popular team competition for a fun and action-packed adventure, where you compete against each other in two teams. The team event varies on your choice of severity, but the arrangement is always the same with the winning team receiving a nice prize from Upzone.
A team competition is perfect for companies who want to do something fun and exciting for their employees, where their collaboration, focus and creativity are put to the test.
The team competition is suitable for groups of 20 participants. If there are more participants, we may need to divide you into more teams. You need to be at least 8 participants in order to book the activity.
We will adapt the competition to suit your group and can adapt the difficulty and challenge depending on the size of the group.

Price
SEK 450/participant excl. VAT
(We cannot guarantee a team competition during a weekend)

The price includes 2-4 hours of activities depending on the number of participants and choice of difficulty, all necessary equipment and an safety instruction.
Adventure contest - Borås
Put your courage, strentgh and skill to test in our new adventure contest. Together or divided into to teams you do three unique challenges at high altitude. We recommend that you are at least 8 participants if you want to challenge each other. Can only be booked in Borås.
Price
SEK 3300/ 4-7 participants excl. VAT
SEK 3800/ 8-10 participants excl. VAT
SEK 5300/ 11-14 participants excl. VAT
SEK 6800/ 15-18 participants excl. VAT
SEK 8300/ 19-22 participants excl. VAT
Contact the booking central on the number +46(0)33 41 17 41 if you have any questions or want to book one of the activities above!