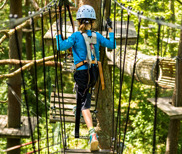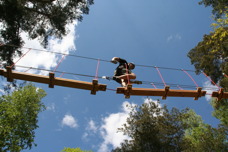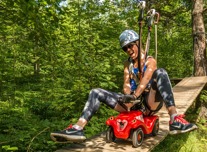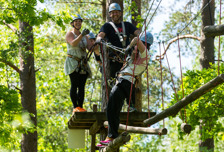 Welcome to Upzone adventurepark in Borås
The park in Borås was the first park which opened back in 2009. Since then we have had over 30,000 vistors. For the season of 2016 we have made several adjustments to our existing courses but also extened the last and most difficult course, Riskzone. The season begins in march and ends in november. The available starting times for each day can be found in the booking calendar.

Contact:
Phone: 033 41 17 41
E-mail: boras@upzone.se

GPS
WGS84: N 57° 44.4113', E 12° 56.365'
Decimal: 57.7402, 12.9394
Find us
Upzone adventure park is located next to Borås zoo. Follow the signs for the "djurpark"and park in the car park next to the zoo. Walk up to the forest to the left of the zoo entrance.
Bus
Take the number 1 (Sjöbo) from södra torget to Boråsparken.
The price includes a 2.5 hour advenuture, instruction and insurance for all of our climbing guests. Children between the ages 8-10 must always have 1 actively climbing adult for 2 children or one private booked Upzone Instructor per three children, Children between the ages 6-7 years old must always have 1 adult for 5 children keeping watch from the ground.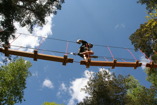 Big adventurers 395SEK
Age: From 11 years old
Courses: Funzone, Fitnesszone, Adventurezone & Riskzone.

We recommend an adult to actively climb with 11-14 year olds.

Young adventurers 295SEK
Age: 8 - 10 years old
Courses: Funzone, Fitnesszone and Adventurezone.
Safety regulations:
Children must climb together with at least one active-climbing adult (18+ years) per two children, or one private booked Upzone Instructor per three children.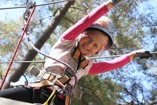 Small adventurers: 195SEK
Age: 6-7 years old
Courses: Funzone
Safety regulations:
Children must have at least one adult per 5 children keeping watch from the ground.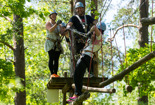 Family price 1095 SEK
Valid for:
2 adults + 2 children or
1 adult + children.
Offer valid throughout the season on specific days only.
Bookings Calendar
Click here to read our booking rules before you book. You are responsible for reading and understanding the rules. If you are a large group please contact the bookingcentral for available start times.

Is the time you want to climb not available? Contact the booking central on phone or e-mail to make a reservation.
April-November
We are open every day that we have bookings. Please check the bookings calendar to see available start times.
Imp. The bookings calendar continually updates and we can add more start times if we have a large amount of bookings. No start time on the day you want? Contact us to see if it is possible to open up a new time.

Book our new and exciting Team Contest in Boårs. Upzone Team Contest is a popular team activity in which you as an individual and your team put your strength and teamwork to the test. In 5 diffrent challenges, 3 on high altitude and 2 on the ground.

Price SEK 495 per person
Cancellations can be made up 7 days prior to your booked time. With cancellations, there is an administrative fee of 15SEK per person. Cancellations made later than 7 days before the booked activity are non-refundable.
Rescheduling for another day can be made no later than 3 days before a booked time.
Click here to read
more
.
Take you company on an unforgettable team adventure. We offer various business activities so there's something for everyone. Learn more here!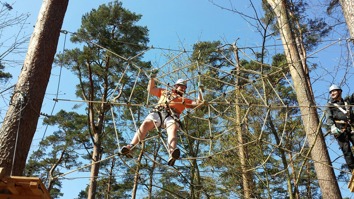 Upzone offers a unique adventure that develops group dynamics and on an individual level, develop willpower, courage and focus. Learn more
here
!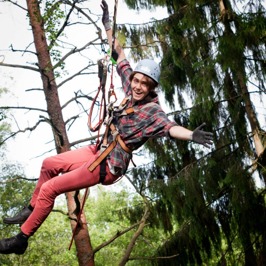 Celebrate your birthday at Upzone! Invite your friends for a fun adventure in the trees and enjoy a birthday you will never forget. Read more
here
.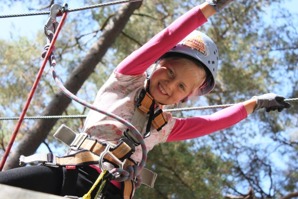 Book a skilled personal Upzone guide to climb together with your group, give you all the tips and tricks in the courses or if you can't or don't want to climb with your children, hire a guide to climb with them instead. 495SEK/per guide and activity. (Max. 3 children/guide)
Please contact us at least 7 days beforeif you would like to book a guide.
Are you a group of 20 people or more? You can receive a group discount of 10%! The group discount is valid only if all of the group pay together either by invoice or by card in the park. Group discounts do not apply to business activities or school class bookings. The group discount cannot be combined with other discounts or offers. Contact us if you are a group of 20 participants or more.